Wettbewerb: Kreativität im Studium / Call for proposals: Creativity and Studies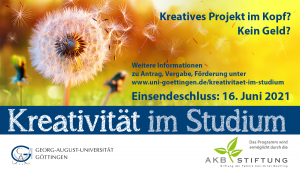 Projekt im Kopf und kein Geld? Die Universität Göttingen und die AKB Stiftung fördern auch in diesem Jahr Studierende, die aus ihrem Studium heraus interessante Projektideen entwickeln. Die Projekte können auch in internationaler Zusammenarbeit mit Partnern und Studierenden aus anderen Einrichtungen oder Unternehmen durchgeführt werden. Die Ausschreibung richtet sich an alle immatrikulierten Studierenden sämtlicher Fachrichtungen; ausgenommen sind Promotionsstudierende. Die Bewerbungsfrist endet am 16. Juni 2021. Weitere Informationen finden Sie unter www.uni-goettingen.de/kreativitaet-im-studium.
---
The University of Göttingen supports students who develop interesting ideas for projects. The proposals may be carried out with partners and students from other institutions or businesses, as well as with international cooperation. The call for proposals is open to matriculated students from all faculties; except for PhD students. Proposals can be sent in until the deadline on 16 June 2021. Conditions of participation and further information: www.uni-goettingen.de/creativity-and-studies.