Universität wechselt in Corona-Stufe 1 ab 14. Juni 2021 / University moves to Covid-19 level 1 (yellow) from 14 June 2021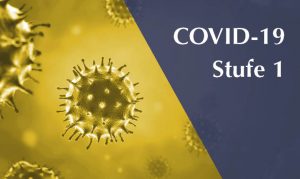 Die Universitätsleitung hat beschlossen, dass die Universität in unserem COVID-19-Stufenplan von Montag, 14. Juni 2021 auf Stufe 1 (Stabil niedriges Infektionsgeschehen) wechselt, falls sich die aktuelle Situation nicht verschlechtert. Auch hier gilt wie bei allen ähnlich gelagerten Entscheidungen der Universitätsleitung und des Krisenstabs, dass die Regelungen von Bund, Ländern und Stadt weiterhin zur Anwendung kommen (aktuell unter anderen das Homeoffice-Gebot oder die 10m2-Regel).
In den kommenden Tagen werden wir die Regelungen und Texte in der A-Z-Liste entsprechend aktualisieren und im kommenden Newsletter am 11. Juni 2021 zusammenfassen.
---
The University management has decided that the University will move to level 1 (stable, low infection rate) in our COVID-19 3-level plan from Monday 14 June 2021, as long as the current situation does not worsen. Again, as with all similar decisions made by the University management and the Krisenstab (crisis management team), the national, state and city regulations will continue to apply. This currently includes the regulations about working from home or the 10m2 rule.
Over the next few days, we will update the regulations and texts in the A-Z list as needed and summarise them in the next newsletter on 11 June 2021.