Europa macht Schule: europäische Gaststudierende gesucht / Europe meets School: european guest students wanted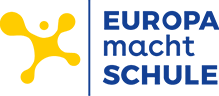 Die Initiative "Europa macht Schule" sucht europäische Gaststudierende, die Lust haben, zwischen April und Juni 2021 an einer Schule ein kleines Projekt über ihre Heimat durchzuführen. Weitere Informationen sind unter www.europamachtschule.de zu finden.
---
Do you want to help shape Europe? Are you a European guest student? "Europe meets School" allows you to conduct a small project in a German school on your home country between April and June 2021. Further information at www.europamachtschule.de/en/.