Enlight European University Kick-off Week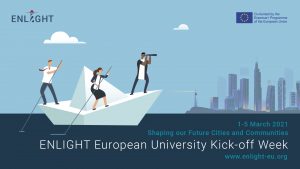 From 1 until 5 March 2021 the Enlight European University organizes its official kick-off week. During the kick-off week Enlight offers a fully online programme, comprising work sessions, public lecture sessions on the Enlight focus areas and evening events, each hosted by one of the nine Enlight partners. Join one of our virtual coffee breaks and meet one of your fellow Enlight colleagues, get to know more about Enlight projects in our showcase sessions and post your ideas on one of the message boards!  
The kick-off week brings together academics, experts and students of all ENLIGHT universities, as well as renowned external speakers from various fields.Programme and registration at https://enlight-eu.org/index.php/university-about-us/news-events/363-enlight-kick-off-week-1-5-march.
---
Vom 1. bis 5. März 2021 veranstaltet die Enlight European University ihre offizielle Kick-off Week. Während der Kick-off Week bietet Enlight ein komplettes Online-Programm an, das Workshops, öffentliche Vorträge zu den Enlight-Fokusbereichen und Abendveranstaltungen umfasst, die jeweils von einem der neun Enlight-Partner ausgerichtet werden. Nehmen Sie an einer unserer virtuellen Kaffeepausen teil und treffen Sie eine*n Ihrer Enlight-Kolleg*innen, erfahren Sie mehr über Enlight-Projekte in unseren Showcase-Sessions und posten Sie Ihre Ideen auf einem der Message Boards!
Die Kick-off-Woche bringt Akademiker*innen, Expert*innen und Studierende aller Enlight-Hochschulen sowie renommierte externe Referent*innen aus verschiedenen Bereichen zusammen.Programm und Anmeldung unter https://enlight-eu.org/index.php/university-about-us/news-events/363-enlight-kick-off-week-1-5-march