5. November 2020: FoLL – Präsentation und Talk / FoLL – Presentation and Talk (in German)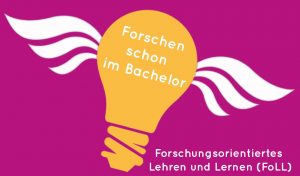 Pflanzliche Alternativen zur Milch, Arbeit in Frauengefängnissen und Spektrallinien der Sonne – gewohnt vielfältig sind die Ergebnispräsentationen von Studierendenteams, die im vergangenen Semester am Programm "Forschungsorientiertes Lehren und Lernen" (FoLL) teilgenommen haben.
Bei FoLL durchlaufen Bachelor-Studierende den gesamten Prozess eines Forschungsvorhabens und üben dadurch schon in frühen Phasen des Studiums wissenschaftliches Denken und Arbeiten an authentischen Fragestellungen des jeweiligen Studienfaches ein.
Los geht es am Donnerstag, 5. November 2020, um 18 Uhr auf Zoom. Sie sind eingeladen, gespannt zuzuhören, wissbegierig zu fragen und ab 20 Uhr in Breakout-Rooms mit den Teams zu diskutieren. Die Veranstaltung findet in deutscher Sprache statt.
Die Anmeldung erfolgt unter www.uni-goettingen.de/de/627682.html. 24 Stunden vor Präsentationsbeginn bekommen Sie einen Link zum Präsentationsraum zugeschickt. Interessierte Bachelor-Teams können sich noch für das Wintersemester 2020/21 bewerben.
---
Plant alternatives to milk, work in women's prisons and spectral absorption lines from the sun: as usual, the research presentations by teams of students who took part in last semester's FOLL programme – "Forschungsorientiertes Lehren und Lernen" (Research-oriented teaching and learning) – are diverse.
At FoLL, degree students go through the whole process of carrying out a research project and so practise scientific thinking and working on real questions in the respective subject even in the early stages of their studies.
The talks kick off on Thursday 5 November at 18:00 on Zoom. You are invited to listen intently, to ask questions eagerly and to get involved in discussions with the teams in breakout rooms from 20:00 onwards. The event will be held in German.
You can register at www.uni-goettingen.de/de/627682.html. 24 hours before the start of the presentation you will receive a link to the zoom room.
Interested teams of degree students can still apply for the winter semester 2020/21.