Neue Ausgabe der uni|inform / The latest edition of uni|inform is out now (in German)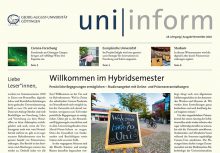 Zum Vorlesungsstart ist die neue Ausgabe unserer Universitätszeitung erschienen. Sie steht im Zeichen der Corona-Pandemie: Lesen Sie über die Pläne für das Wintersemester in ungewisser Zeit, über Corona-Forschung am Göttingen Campus und über ein etwas andere Auslandssemester in Jerusalem. Die Krisenstabsleitung blickt auf die vergangenen Monate zurück und gewährt einen Blick hinter die Kulissen. Darüber hinaus gibt es weitere Themen zu entdecken: Wir berichten zum Beispiel, wie Forschende, Studierende und Alumni sich für Naturschutz und Nachhaltigkeit engagieren. Die uni|inform gibt es als gedruckte Ausgabe und online unter www.uni-goettingen.de/uniinform.
————————————————————————————————————————————————————————-
The new edition of our University newspaper was published as lectures began. Its overriding theme is the coronavirus pandemic: read about plans for the winter semester in these uncertain times; about coronavirus research across the Göttingen Campus; and about a somewhat different semester abroad in Jerusalem. The crisis management team (Krisenstab) looks back on the last few months and lets us take a peek behind the scenes. Plus, you can find out about other issues: we report, for example, on how researchers, students and alumni are committed to nature conservation and sustainability. uni|inform is available as a printed edition and online at www.uni-goettingen.de/uniinform.