Hochschulwahlen im Wintersemester 2022/23 / University elections in the winter semester 2022/23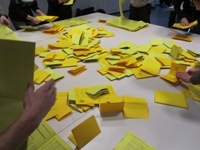 In den vergangenen Wochen haben die Universitätsmitglieder ihre Wahlbenachrichtigung für die kommenden Hochschulwahlen per E-Mail erhalten. Die Wahlen finden vom 16. bis 24. Januar 2023 statt. Für diejenigen Wahlbereiche, für die bis zum Fristende keine oder zu wenige Wahlvorschläge eingereicht wurden, hat die Universität eine Nachfrist festgelegt. Im Rahmen der Nachfrist können – ausschließlich für diese Wahlbereiche – Wahlvorschläge noch bis spätestens Mittwoch, 30. November 2022, 15 Uhr (Ausschlussfrist) eingereicht werden.
Ausschreibungen und vertiefende Informationen zu den Wahlen finden Sie im Internet unter www.uni-goettingen.de/de/410964.html.
Bei Fragen zu Wahlen, darunter insbesondere zu den beiden oben genannten Angelegenheiten, können Sie sich an Ralf Buhre von der Abteilung Wissenschaftsrecht wenden: www.uni-goettingen.de/de/8522.html.
---
University members have received their election notifications via email for the university elections to be held from 16 January to 24 January 2023.
In addition, a grace period has been set for election areas for which no or too few election proposals have been submitted by the deadline. Within the framework of the grace period, election proposals – exclusively for these election areas – can still be submitted until Wednesday, 30 November 2022, 15:00 at the latest (cut-off deadline).
Announcements and more detailed information on the elections can also be found at www.uni-goettingen.de/en/410964.html. If you have any questions about elections, including in particular the two matters mentioned above, you are also welcome to contact Ralf Buhre: www.uni-goettingen.de/en/8522.html.