CampusPost: Sprachkalender der Deutschen Gebärdensprache / Language calendar for German Sign Language (in German)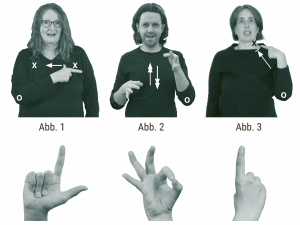 Auch für das Jahr 2023 haben Wissenschaftler*innen des Gebärdensprachlabors der Universität Göttingen einen Sprachkalender zur Deutschen Gebärdensprache (DGS) entwickelt. Der Abreißkalender bietet eine abwechslungsreiche Mischung aus Wortschatz, Grammatik, Gesprächssituation, Kultur und Wussten Sie schon …?. Mehr darüber lesen Sie in unserem Blog CampusPost.
---
Scientists from the Sign Language Laboratory at the University of Göttingen have again developed a language calendar for German Sign Language (DGS) for the year 2023. The tear-off calendar offers a varied mix of vocabulary, grammar, conversational situations, and culture- Read more about it in our blog CampusPost (in German).