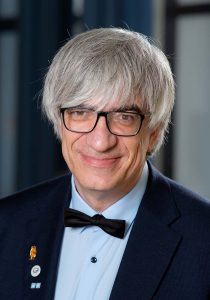 Liebe Studierende und Beschäftigte,
liebe Angehörige der Universität,
mittlerweile ist fast Halbzeit zwischen Vorlesungsbeginn und Jahresende – ich hoffe, Sie sind alle gut in das Studienjahr gestartet und vor allem die neuen Mitarbeiter*innen und Studierenden finden sich auf dem Campus und im Universitätsleben bereits gut zurecht. Dass es dabei nach den Corona-Semestern und im Zeichen des Energiesparens an einigen Stellen nicht immer rund läuft, gehört mit zu den Herausforderungen des Lebens in und an einer großen Einrichtung. Umso mehr sind wir bei der Beseitigung von Mängeln auf Ihre Hilfe angewiesen: Bitte wenden Sie sich mit Hinweisen, Kritik oder Fragen an Ihre Dozent*innen oder Vorgesetzten, die Studiengangsverantwortlichen, Dekanate – oder gern auch an das Präsidium direkt.
Ich hoffe sehr, dass die Einsparmaßnahmen, die wir aufgrund der Energieknappheit und der gestiegenen Kosten vornehmen mussten, neben Komforteinbußen nicht zu großen Einschränkungen im Studieren und Arbeiten in Präsenz geführt haben. Sollte es hier Probleme geben, melden Sie sich bitte!
Die Energiefrage betrifft auch unser Forum Wissen, das – wie die anderen Universitätsgebäude auch – vom 24. Dezember 2022 bis zum 2. Januar 2023 schließen wird. Davor gibt es aber noch einiges zu erleben: Neben der Basisausstellung zeigen wir dort aktuell die Sonderausstellung "Moving Things. Zur Materialität von Flucht und Migration", die sich mit den Themen Flucht und Migration beschäftigt. Ab Mitte Dezember bietet das Sammlungsschaufenster im Forum Wissen einen weiteren Einblick in unsere Sammlungen und neue Möglichkeiten zur objektbasierten Lehre und Forschung. Bereits jetzt können Sie den Sammlungskustod*innen und den Mitarbeiter*innen der Zentralen Kustodie beim Bestücken zuschauen.

Heute Abend startet Prof. Dr. Christoph Bleidorn, wissenschaftlicher Leiter des Forum Wissen, die neue öffentliche Veranstaltungsreihe "Chalk Talks", in der Göttinger Wissenschaftler*innen verschiedenster Disziplinen in entspannter Atmosphäre Einblick in ihre Fachgebiete geben – mit Kreide und Tafel als einzige Hilfsmittel. Im neuen Jahr können Sie dann verfolgen, wie ein 17 Meter langes Pottwalskelett, das Highlight der Zoologischen Sammlung und künftigen Biodiversitätsmuseums, im Atrium des Forum Wissen angebracht wird. Wir feiern dieses Ereignis schon jetzt mit einem Malwettbewerb und sind weiterhin auf der Suche nach Spenden. Ich möchte mich beim Förderkreis Forum Wissen und Alumni Göttingen e.V. herzlich für die Unterstützung des Projekts und der damit verbundenen aufwendigen Arbeiten bedanken.
Doch nun wünsche ich Ihnen eine gute zweite Halbzeit und eine ruhige, entspannte Vorweihnachtszeit, zu der unser "Universitätsweihnachtsbaum", der ab heute Abend auf dem Wilhelmsplatz nur für energiesparende sechs Stunden pro Tag leuchtet, auch ein wenig beitragen sollte.
Ihr
Prof. Dr. Metin Tolan
Universitätspräsident
---
Dear Staff and Students,
It is now almost half-time between the point where lectures kicked-off and the end of the year. I hope you have all had a good start to the academic year and that, in particular, our new staff and students are already finding their way around the Campus and discovering University life. The fact that things do not always run smoothly in some areas, after so many semesters with Coronavirus and during a drive to save energy, is one of the challenges of life in and at a large institution. This makes us all the more reliant on your help in eliminating problems: please contact your lecturers or supervisors, the people responsible for the degree programmes, the dean's offices – or the Presidential Board directly – with your comments, criticism or questions.
I sincerely hope that the cost-cutting measures we have had to take due to the energy shortage and increased costs have not led to any major constraints on studying and working onsite and in person, apart from it being a little less comfortable. If there are any problems here, please get in touch!
The energy issue also affects our Forum Wissen, which – like the other University buildings – will close from 24 December 2022 to 2 January 2023. However, before that, there is still a lot to experience: in addition to the standard exhibition, we are currently showing the special exhibition "Moving Things", which deals with the topics of flight and migration. From mid-December, the showcase in the Forum Wissen will offer a further insight into our collections, and provide new opportunities for teaching and research linked to objects. You can already watch the custodians and the staff of the Centre for Collection Development filling the shelves.
Tonight, Professor Christoph Bleidorn, Scientific Director of Forum Wissen, launches the new public lecture series "Chalk Talks" (in German). Göttingen scientists from a wide range of disciplines will share insights in their fields of expertise in a relaxed atmosphere – using just chalk and blackboard as the only tools. In the new year, you will be able to watch a 17-metre-long whale skeleton, the highlight of the Zoological Collection and future Biodiversity Museum Göttingen, being installed in the atrium of the Forum Wissen. We are already celebrating this event with a painting competition and are still collecting donations. I would like to express my sincere thanks to the Förderkreis Forum Wissen und Alumni Göttingen e.V. for their support of the project and the complex work involved.
And now I must wish you a good second half and a quiet, relaxed run-up to Christmas. Our University Christmas Tree at Wilhelmsplatz, whose lights will be on only for an energy-saving six hours a day starting tonight, should also contribute a little towards this peaceful time.
All the best,
Professor Metin Tolan
University President