Ideenwettbewerb für Studierende / Ideas competition for students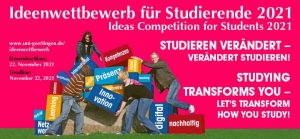 Die Pandemie als Ideengeber: Die vergangenen anderthalb Jahre haben das universitäre Leben verändert. Wir haben neue Formen des Studierens und Lehrens entwickelt, hybride Modelle ausprobiert, unsere Kommunikationswege verändert und neue Tools genutzt. Welche Erfahrungen und Ideen aus der Pandemie kann und soll die Universität weiterhin begleiten oder ausbauen? Unter dem Motto "Studieren verändert – verändert studieren!" können Studierende aller Fächer Vorschläge beim Ideenwettbewerb für Studierende 2021 einreichen. Einsendeschluss ist der 22. November 2021.
www.uni-goettingen.de/ideenwettbewerb
---
The pandemic situation has not only influenced all private areas of life, but also studies, teaching and university life. There are new forms of studying and teaching, hybrid models, changed communication and new tools. Which experiences and ideas from the pandemic can and should the University continue to support or expand? The University kindly invites its students to submit proposals for positive changes and new campaigns in the Ideas competition for students 2021. This year's slogan is: "Studying transforms you – let's transform how you study". Deadline is 22 November 2021.