Enlight Lecture Series: "Forest in Times of Climate Change"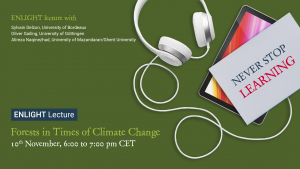 Die Enlight Lecture Series in diesem Semester startet mit einem virtuellen Abend zum Thema "Forest in Times of Climate Change". Internationale Experten von drei Enlight-Universitäten beleuchten den Wald als wichtiges Instrument im Kampf gegen den Klimawandel. Die erste Veranstaltung beginnt am Mittwoch, 10. November 2021, um 18 Uhr; anschließend ist ein virtuelles Networking geplant. Im Laufe des Semesters werden weitere Vorträge stattfinden. Die Sprache ist Englisch.
https://enlight-eu.org/index.php/university-about-us/news-events/158-news/477-enlight-lecture-on-climate-change
---
This semester's Enlight Lecture Series kicks off with a virtual evening on "Forest in Times of Climate Change." International experts from three Enlight universities will highlight forests as an important tool in the fight against climate change. The lecture (in English) will begin at 18:00 on Wednesday, 10 November 2021; virtual networking is planned afterwards. Additional lectures will be held throughout the semester.
https://enlight-eu.org/index.php/university-about-us/news-events/158-news/477-enlight-lecture-on-climate-change