Sport in der vorlesungsfreien Zeit / University Sports during break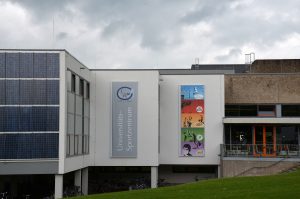 Auf den Hochschulsport müssen Sie in der vorlesungsfreien Zeit nicht verzichten: Das RoXx bietet Kletterkurse auf verschiedenen Leveln für Familien, Teams und Einzelpersonen an. Eine Übersicht finden Sie auf dieser Seite: https://my.sport.uni-goettingen.de/roxx/kurse
Wer einen Hochschulsport-Account hat, kann die Tennis- und Beachplätze ab sofort wieder nutzen. Die Buchung erfolgt online unter https://my.sport.uni-goettingen.de/blog/buchung-beach-soccer-tennis/
Auch das Gelände des Hochschulsports kann für Outdoor-Aktivitäten genutzt werden. Bitte beachten Sie die Hygiene- und Abstandsregeln, die überall auf dem Areal aushängen.
Das Ferienprogramm im Hochschulsport startet Ende August. Dann hat auch die Schwimmhalle wieder geöffnet. Das Kursangebot ist jetzt schon online, der Buchungszeitraum beginnt am 24. August:  https://my.sport.uni-goettingen.de/blog/sportangebot-sommersemesterferien/
Der Great Barrier Run findet dieses Jahr nicht statt. Die Veranstaltung wird auf Sonnabend, 27. März 2021 verschoben, Startplätze werden übernommen. Wer nicht teilnehmen kann, kann seinen Startplatz kostenlos übertragen oder sich die Teilnahmegebühr bis zum 15. September 2020 zurückerstatten lassen. Alle Infos: https://www.great-barrier-run.de/verschiebung
---
You do not have to do without sport during the semester breaks: The RoXx offers climbing courses at different levels for families, teams and individuals. You can find an overview on this page: https://my.sport.uni-goettingen.de/roxx/kurse
Those who have a university sports account can now use the tennis and beach courts again. The booking can be made online at https://my.sport.uni-goettingen.de/blog/buchung-beach-soccer-tennis/.
The university sports grounds can also be used for outdoor activities. Please observe the rules of hygiene and distance, which are posted throughout the grounds.
The holiday programme in University sports starts at the end of August. Then the swimming pool will also be open again. The course offer is already online, the booking period starts on 24 August: https://my.sport.uni-goettingen.de/blog/sportangebot-sommersemesterferien/
The Great Barrier Run will not take place this year. The event will be postponed to Saturday, 27 March 2021, starting places will be taken over. Those who are unable to participate can transfer their starting place free of charge or have their entry fee refunded until September 15, 2020. All information: https://www.great-barrier-run.de/verschiebung