Hausarbeiten-Sprechstunde XXL Online! / Help Desk XXL – Virtual coaching on academic writing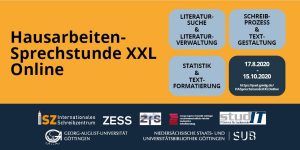 Keine passende Literatur für die Haus- oder Abschlussarbeit gefunden? Den roten Faden verloren? Schwierigkeiten bei der Statistik? Probleme beim Zitieren oder Formatieren in Word oder Excel? Das Literaturverwaltungsprogramm macht was es will? Fragen zu LaTeX, BibTex oder Python? Holen Sie sich Hilfe in der Hausarbeiten-Sprechstunde XXL – dieses Semester natürlich online.
Die Sprechstunde zum wissenschaftlichen Schreiben findet zwischen dem 17. August und 15. Oktober 2020 jeweils mittwochs oder nach Vereinbarung als individuelles Beratungsgespräch bei BigBlueButton statt.
Weitere Details unter www.sub.uni-goettingen.de/sub-aktuell/einzelansicht/hausarbeiten-sprechstunde-xxl-online/
Die Hausarbeiten-Sprechstunde wird angeboten von der SUB Göttingen zusammen mit dem Internationalen Schreibzentrum (ISZ), dem Zentrum für Statistik und der Zentralen Einrichtung für Sprachen und Schlüsselqualifikationen (ZESS) sowie studIT.
_________________________________________
Help Desk XXL – Virtual coaching on academic writing
Stressing out over your term paper? Experiencing writer's block? Useful literature seemingly untraceable? Having problems with citations? Can't get the hang of statistics? You don't know where to start and your reference management programme, MS Word, and MS Excel don't do what they are supposed to? Questions concerning LaTex, BibTex, or Python? Come along to our virtual coaching on academic writing!
Date: 17 August 2020 – 15 October 2020
Further information: www.sub.uni-goettingen.de/en/news/details/help-desk-xxl-online-virtual-coaching-on-academic-writing/
Help Desk XXL is offered by the SUB Göttingen together with the International Writing Centre (ISZ), the Centre for Statistics and the Central Institution for Languages and Key Qualifications (ZESS) as well as studIT.