Das Forum Wissen lädt heute ein zur Preview! / Forum Wissen invites you to a preview today!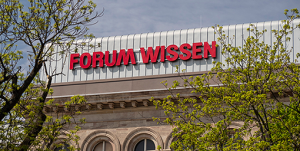 Diese Woche wurde das Forum Wissen feierlich eingeweiht und soll zukünftig ein Ort für alle Wissenshungrigen werden – am heutigen Freitag öffnet das Forum Wissen seine Türen zunächst exklusiv für Universitätsangehörige. Studierende, Beschäftigte und Angehörige der Universität Göttingen sind herzlich eingeladen einen ersten Blick in das neue Wissensmuseum zu werfen.
Tauchen Sie ein in die verschiedenen "Räume des Wissens"! Nach der traditionellen Schlüsselübergabe um 10 Uhr am Eingang des Museumsgebäudes in der Berliner Straße 28 stehen die Türen allen Universitätsmitgliedern offen.
Sie haben heute keine Zeit das Wissensmuseum zu erkunden? Ab dem Pfingstwochenende ist das Göttinger Wissensmuseum für die Öffentlichkeit geöffnet. Am Eröffnungswochenende, dem 4. und 5. Juni, erwartet die Besucher*innen von 10 bis 18 Uhr ein umfangreiches Programm. Auch am Pfingstmontag ist das Museum für alle geöffnet. Der Eintritt ist frei.
Informationen zur Basisausstellung sowie der ersten Sonderausstellung bietet die Webseite vom Forum Wissen.
---
This week, the Forum Wissen was  inaugurated and is to become a place for all those hungry for knowledge in the future – today (Friday), the Forum Wissen will initially open its doors exclusively to University members. Students, staff and friends of the University of Göttingen are cordially invited to take a first look at the new museum.
Immerse yourself in the various "rooms of knowledge"! After the traditional handing over of the keys at 10 a.m. at the entrance to the museum building at Berliner Straße 28, the doors will be open to all University members.
You don't have time to explore the Knowledge Museum today? From the Whitsun weekend onwards, the Göttingen Knowledge Museum will be open to the public. On the opening weekend, 4 and 5 June, visitors can expect an extensive programme from 10 am to 6 pm. The museum will also be open to the public on Whit Monday. Admission to the exhibition is free.
Information on the basic exhibition and the first special exhibition can be found on the Forum Wissen website.