CampusPost: Meisterwerk des Buchdrucks / Masterpiece of printing (in German)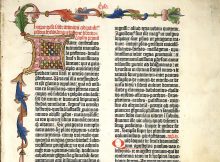 Johannes Gutenberg gilt als Erfinder des europäischen Buchdrucks mit beweglichen Metalllettern. Das erste bedeutende Werk, das mit dieser Technik entstand, ist die sogenannte Gutenberg-Bibel. Die Niedersächsische Staats- und Universitätsbibliothek Göttingen (SUB) besitzt ein vollständiges Exemplar dieses Meisterwerks – im Jahr 1454 auf Pergament gedruckt. Seit 20 Jahren gehört diese Ausgabe zum UNESCO-Weltdokumentenerbe.
Das kunstvoll verzierte Buch in zwei Bänden ist eine von weltweit nur vier vollständig erhaltenen 42-zeiligen Pergament-Ausgaben und die einzige in Deutschland. In unserem Blog CampusPost stellen wir Ihnen dieses Meisterwerk des Buchdrucks und begleitende Dokumente näher vor.
www.campuspost.goettingen-campus.de/2021/01/06/meisterwerk-des-buchdrucks/
---
Johannes Gutenberg is considered the inventor of European printing using movable metal type. The first significant work produced using this technique is the Gutenberg Bible. Göttingen State and University Library (SUB) owns a complete copy of this masterpiece, printed on vellum in 1454. This edition has been part of the UNESCO Memory of the World documentary heritage for 20 years.
This ornately decorated book in two volumes is one of only four 42-line vellum editions in the world which have survived in their entirety, and the only one in Germany. In our CampusPost blog, we present this masterpiece of printing and the accompanying documents in more detail.
www.campuspost.goettingen-campus.de/2021/01/06/meisterwerk-des-buchdrucks/