Online-Vorträge der Praxisbörse / Online Talks of our Career Fair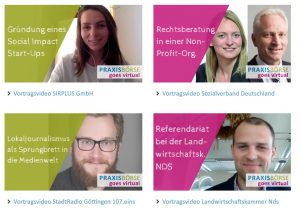 Bewerbungstipps von den Profis abgreifen oder einen Blick hinter die Kulissen von Unternehmen werfen? Ob Lokaljournalismus, Rechtsberatung, Gründung eines Start-ups oder Arbeiten im internationalen Konzern – in den Vortragsaufzeichnungen der PraxisBörse 2020 erhalten Sie exklusive Einblicke. Mit rund 1.200 registrierten Besucher*innen war die erste virtuelle Praxisbörse im Juni diesen Jahres ein voller Erfolg mit vielen Vorträgen rund um Karrieremöglichkeiten und den Bewerbungsprozess. Viel Spaß beim Stöbern: www.uni-goettingen.de/praxisboerse
Noch nie von der PraxisBörse gehört? Jedes Jahr verlassen mehrere Tausend hervorragend ausgebildete und hoch motivierte Absolventinnen und Absolventen unsere Universität. Die Job- und Karrieremesse PraxisBörse bietet eine optimale Möglichkeit, in persönlichen Gesprächen neue Kontakte für Jobs, Praktika und Abschlussarbeiten zu knüpfen. Neben nationalen und internationalen Ausstellern sind auch viele regional ansässige Unternehmen vertreten. Auch im Sommersemester 2021 wird es wieder eine PraxisBörse mit vielen Unternehmen geben, wir laden Sie rechtzeitig ein!
---
Get application tips from professionals and catch a look behind the scenes of companies! Whether local journalism, legal advice, founding a start-up or working in an international group – you get exclusive insights in the lecture recordings of the PraxisBörse 2020. With around 1,200 registered visitors, the first virtual job and career fair of the University of Göttingen took place on June 10, 2020. As every year, there were several talks on career opportunities and application processes. We have published part of the talks, enjoy browsing through the recordings: www.uni-goettingen.de/praxisboerse
Never heard of the PraxisBörse? Every year, several thousand excellently educated and highly motivated graduates leave our University. The job and career fair PraxisBörse is the ideal environment to get in touch with company representatives and young professionals. It is the opportunity to find internships and lay the basis for practice-oriented theses writing. In addition to national and international exhibitors, many regionally based companies are present. The next PraxisBörse will be during the summer semester 2021, we will inviteyou early enough!