Aktionstag: WISSENSWERT! Science goes City – 26. Oktober – Day of Events: Science goes City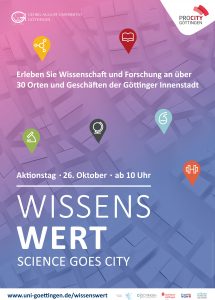 Den sieben Todsünden bei Thalia begegnen? Herz und Hirn gemeinsam denken? In der Parfümerie herausfinden, wie Liebe riecht? Auf zum Aktionstag "WISSENSWERT – Science goes City" am Sonnabend, 26. Oktober 2019, in der Göttinger Innenstadt.
Vielfältige Forschung trifft auf eine vielseitige Stadt: Der Einzelhandel, das städtische Museum, die Johanniskirche und viele mehr öffnen ihre Türen für Göttinger Wissenschaftlerinnen und Wissenschaftler. Vom sprachwissenschaftlichen Seminar in der Stadtbibliothek bis zum Thema Lebensmittelqualität und -verschwendung bei der Tafel Göttingen stellen sie ihre neuesten Erkenntnisse vor. Los geht's um 10 Uhr.
Meet the seven deadly sins at Thalia? The heart and brain thinking together? Find out what love smells like in a perfumery? Come and join the "WISSENSWERT – Science goes City" day of events on 26 October 2019 at the  in the city centre of Göttingen.
Diverse research meets a versatile city: Stores, the city museum, the Johanniskirche and many more will open their doors for Göttingen scientists. From the linguistic seminar in the library to food quality and food waste at the Tafel Göttingen the scientists will talk about the latest topics of their field
The day of events starts at 10am on 26 October.  There will be an information stand at the marketplace in front of the Old Town Hall.