Global Entrepreneurship Summer School (GESS) – apply now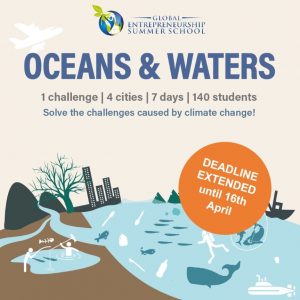 The application phase for Global Entrepreneurship Summer School (GESS) ends soon, on April 16th. Right now, we are looking for students from all over the world to become future responsible leaders and develop entrepreneurial solutions around the topic 'Oceans and Waters'.
The Global Entrepreneurship Summer School (GESS) is a seven-day program where 140 university students come together in  to develop entrepreneurial solutions that meet the world's biggest challenges. In the spirit of promoting "billion euro projects to take climate action", we work on the UN Sustainable Development Goals aiming to empower students to become young responsible leaders who create positive change in our society.
GESS offers a unique opportunity for a truly international learning experience to students from all disciplines. We invite them to join GESS and go on an unforgettable entrepreneurial impact journey at one of our four GESS locations in:
Querétaro, Mexico (25 July – 31 July 2019),
Shanghai, China (28 August – 3 September 2019),
Cape Town, South Africa (8 – 14 September 2019),
Munich, Germany (19 – 25 September 2019).
During the seven-day program students will work together in international and interdisciplinary teams and develop/accelerate impact driven ideas to take climate action.
More information and application: www.globalsummerschool.org