Wahl der Promovierendenvertretung – Election for PhD representation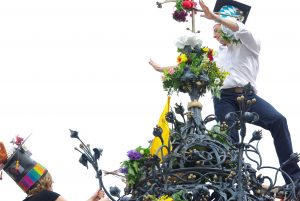 Gemeinsam sind Sie stark: Promovierende, die formal als Doktorandin oder Doktorand angenommen wurden, und in das Wählerverzeichnis eingetragen sind, können am Montag, 20. Mai 2019, für die eigene Fakultät eines der 13 Mitglieder der Promovierendenvertretung wählen.
Die Promovierendenvertretung berät über alle Fragen, die Promovierende betreffenden, und gibt hierzu gegenüber den Gremien Empfehlungen ab. Die Fakultätsräte geben ihr Gelegenheit, zu Entwürfen von Promotionsordnungen Stellung zu nehmen. Die Amtszeit beträgt ein Jahr und beginnt am 1. Oktober 2019.
Die Wahl zur Promovierendenvertretung findet am 20. Mai 2019 auf einer Wahlversammlung statt. Nähere Informationen zur Wahl finden Sie in der ab sofort aushängenden Wahlausschreibung sowie auf folgender Internetseite: www.uni-goettingen.de/de/554935.html
Election for PhD representation – 20 May
To all doctoral candidates: Each doctoral candidate is able to vote for one of the 13 members to represent them on the PhD governance committee for their own faculty. The term of office lasts one year and begins on 1 October 2019.
The PhD representation provides counselling and advice on questions concerning doctoral candidates and makes recommendations to the committees. The faculty councils give them the opportunity to comment on draft graduation regulations.
The election for PhD representation takes place on Monday 20 May 2019 at an election caucus. All doctoral candidates who have already been formally accepted and are enrolled in the electoral register are entitled to vote. Further information on the election can be found on the election notice, which will be posted on 15 April 2019, as well as at the following website: www.uni-goettingen.de/en/554935.html