Sprechstunde XXL am Nordcampus – 16. Mai – Help desk XXL North Campus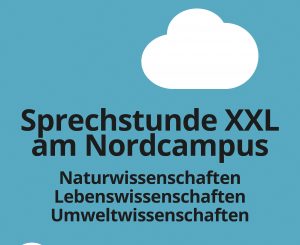 Keine passende Literatur für die Seminar- oder Abschlussarbeit gefunden? Den roten Faden verloren? Schreibblockaden? Die Sprechstunde XXL am Nordcampus hilft! Das Angebot richtet sich insbesondere an Studierende der Naturwissenschaften, Lebenswissenschaften oder Umweltwissenschaften. Die Veranstaltung beginnt am Donnerstag, 16. Mai 2019, um 15 Uhr in der Bereichsbibliothek Physik, Friedrich-Hund-Platz 1. Der Weg ist ausgeschildert.
Help desk XXL North Campus for Students of Natural Sciences, Life Sciences and Environmental Sciences
Stressing out over your term paper? Useful literature seemingly untraceable? Having problems with citations? Then come along to the Help Desk XXL of the State and University Library. Consult the competent advisors who can help you with literature search and reference management, statistics as well as writing process, text composition and formatting.
The team offers help with basic literature search and more advanced literature retrieval including the use of subject-specific databases. In this drop-in session, you can seek advice on organising your sources and formatting citations with the help of reference management programmes, while experts from the International Writing Centre offer assistance with structuring your text or formulating your research question. Our experts also advise you on MS Word and MS Excel.
You can also clarify statistical questions (planning, interpretation, evaluation) regarding your thesis or term paper with experts.
Time and Place: Thursday, 16 May 2019, 15:00 – 18:00, Physics Divisional Library, Friedrich-Hund-Platz 1.
Registration is not required – simply come along!