Geänderte Öffnungszeiten – Changes to opening hours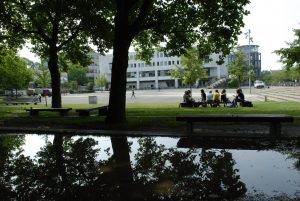 Der Campus ist in der vorlesungsfreien Zeit deutlich weniger besucht, einige Bibliotheken ändern ihre Öffnungszeiten. Die Mensen bietet ein eingeschränktes Angebot an, einige Mensen schließen für einige Wochen.
Damit Sie nicht vor verschlossenen Türen stehen:
Einen Überblick über die Öffnungszeiten der Bibliotheken finden Sie hier:
https://www.sub.uni-goettingen.de/standorte-raumangebote/standorte-mit-oeffnungszeiten/
Den Schließplan für die Mensen finden Sie hier:
https://www.studentenwerk-goettingen.de/schliessplan.html
Changes to opening hours
Since the campus will be empty over the summer, some libraries will modify their opening hours. The canteens (Mensa) will offer a limited selection and some will even be closing for a few weeks.
To save you from turning up to closed doors:
An overview of the libraries' opening hours can be found here:
www.sub.uni-goettingen.de/en/locations-facilities/locations-and-opening-hours/
The closing hours for the canteens (Mensa) can be found here:
https://www.studentenwerk-goettingen.de/schliessplan.html