PraxisBörse – 5. und 6. Juni – Job and career fair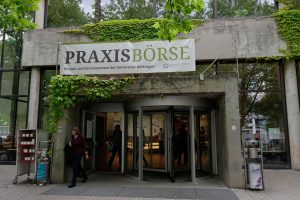 Wer einen Job oder ein Praktikum sucht, eine Frage aus der Praxis bearbeiten möchte, oder sich einfach über Arbeitsmöglichkeiten informieren will, hat auf der zweitätigen Job- und Karrieremesse eine breite Auswahl. Erstmals können sich Studierende auch zum Thema "Gründung und Selbstständigkeit" informieren.
Große und kleinere Unternehmen der regionalen Wirtschaft, wie beispielsweise Mahr, Sartorius, Ottobock, KWS, Knüppel, Beckmann und Partner sowie Blackbit sind auf der Praxisbörse ebenso vertreten wie überregionale und international agierende Konzerne unter anderem B. Braun, d-fine, FERCHAU oder KMPG.
Am Dienstag, 5. Juni, liegt der Schwerpunkt der PraxisBörse auf den naturwissenschaftlichen Fächern und den Lebenswissenschaften. Veranstaltungsort ist das Foyer der Fakultät für Physik am Friedrich-Hund-Platz 1. Am Mittwoch, 6. Juni, sind Studierende aller Fachrichtungen angesprochen. An diesem Tag präsentieren sich die Unternehmen im Foyer des Zentralen Hörsaalgebäudes (ZHG), Platz der Göttinger Sieben 5. Die Veranstaltung dauert an beiden Tagen von 11 bis 17 Uhr.
www.uni-goettingen.de/de/568309.html

Im Rahmen der PraxisBörse bietet der Career Service Folgendes an:
Interested in an international career?
Ein Job oder ein Praktikum im Ausland: Der Career Service unterstützt Sie an seinem Stand mit Informationen zur Stellenrecherche und Hilfe bei der englischsprachigen Bewerbung. Außerdem gibt es ein Quiz zur International Business Etikette und 42 länderspezifische Richtlinien für den Lebenslauf.
Den Stand finden Sie an beiden Tagen auf der PraxisBörse; Informationen zu "EU Career Opportunities" erhalten Sie jeweils von 11 bis 13 Uhr.
Berufseinstieg mit außergewöhnlichem Lebenslauf (Brückenschlag+)
Sie haben Lücken oder Brüche im Lebenslauf, zum Beispiel aufgrund gesundheitlicher Beeinträchtigungen, Betreuungs- oder Pflegeaufgaben? Erfahren Sie, wie Sie sich mit Ihrem individuellen Profil im Bewerbungsprozess erfolgreich positionieren.
Informationen hierzu erhalten Sie an beiden Tagen zwischen 12 und 14 Uhr, am Stand des Career Service.
Job and career fair PraxisBörse – 5 and 6 June 2018
If you're looking a job or an internship, would like to work on a practical question for your scholarly thesis, or simply want to find out about potential job opportunities, the two-day job and career fair is just the place to find a broad range of possibilities.
For the first time ever, students can also obtain information on the topic of "Start-ups and self-employment", as well as receive advice about funding and other support programmes for the start-up process.
Large and medium-sized companies on the regional business landscape, such as Mahr, Sartorius, Ottobock, KWS, Knüppel, Beckmann and Partners, as well as Blackbit, will be represented at the job fair, as well as national and international corporations such as B. Braun, d-fine, FERCHAU and KMPG, among others.
On Tuesday 5 June, the main focus of the PraxisBörse will be on the natural sciences and the life sciences. The venue will be the foyer of the Faculty of Physics at Friedrich-Hund-Platz 1. On Wednesday 6 June, students of all disciplines are welcome. On this day, the companies will be presenting themselves in the foyer of the Central Lecture Hall Building (ZHG), Platz der Göttinger Sieben 5. On both days, the event is scheduled from 11:00 to 17:00 CET.
www.uni-goettingen.de/en/568309.html
Career Service offers during the career fair PraxisBörse:
Tue 5 June at the NorthCampus // Wed 6 June at the ZHG: Interested in an international career? (11.00 to 17.00 CET)
Get useful information on how to find your first job or internship abroad and how to write an application in English.
 Meeting point for international students (11.00 to 17.00 CET)
What is important when applying in Germany? Get instant advice from the Career Service team on how to approach the employers and how to leave a good first impression.
 Mind the gap – How to deal with gaps in your CV, (12.00 to 14.00 CET)
Do you have a gap or unusual chronology on your academic record because of illness, caring responsibility or other personal reasons? Learn how to put a positive spin on things and how to present yourself and your profile during the applications process.