Konferenz: Migration as a Global Challenge – 21. bis 23. Juni – Conference: Migration as a Global Challenge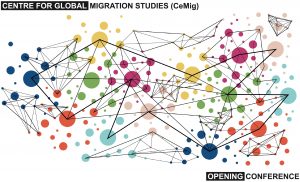 Studierende aller Fächer sind herzlich eingeladen zur Eröffungskonferenz des Göttinger Centre for Global Migration Studies. Vom 21. bis 23. Juni treffen sich Migrationswissenschaftlerinnen und –wissenschaftler aus dem In- und Ausland, um über "Migration as a Global Challenge: Interdisciplinary Approaches to a Complex Field" zu diskutieren.
Die Konferenz beleuchtet die globale Komplexität von Flucht und Migration und dessen spezifisch lokale Herausforderungen. In zahlreichen Panels wird mit Blick auf unterschiedliche Regionen eine Bandbreite an Themen diskutiert: Rechtssysteme und Menschenrecht, Klimawandel, Bildung und Wissensproduktion, Migrations- und Grenzpolitiken, Arbeitsmarktintegration und religiöse Pluralisierungsprozesse. Zwei Roundtable-Diskussionen beschäftigen sich mit den Herausforderungen der gegenwärtigen Migrationsforschung sowie mit den Möglichkeiten und Grenzen des globalen und regionalen Migrationsmanagements. Der Dokumentarfilm einer unserer Gäste erzählt die vernachlässigten Geschichten von Menschen in Zentralamerika auf der Flucht in die USA.
Die Veranstaltung findet an verschiedenen Orten der Universität statt. Eine Anmeldung ist noch bis zum 10. Juni 2018 möglich. Studierende der Universität Göttingen zahlen eine Teilnahmegebühr von 10 Euro. Die Konferenzsprache ist Englisch.
Information und Anmeldung unter www.uni-goettingen.de/de/583205.html
Opening Conference of the Centre for Global Migration Studies – 21. to 23. June 2018
Migration is one of the most troubling and complex issues of the 21st century. Join us from 21. – 23. June 2018 when migration reserachers from various disciplines (encompassing Agricultural Sciences, Law, the Humanities, Social Sciences, Theology and Economic Sciences) meet for the opening conference of the Centre for Global Migration Studies (CeMig) at the University of Göttingen.
The international conference "Migration as a Global Challenge: Interdisciplinary Approaches to a Complex Field" strives to focus on flight and migration at a global scale and sheds light on the interconnectedness with issues of national and local concern. Various panels consider a broad range of several conjoining factors, such as human rights, climate change, education and scientific knowledge production, migration governance and border regimes, labor market integration and the pluralization of religious beliefs. Two roundtables address the challenges of current migration studies and of global and regional migration governance. A documentary from one of our speakers tells the untold stories of people in Central America who have been forced to flee to the United States.
You are cordially invited to join! For more information please visit our webpage: https://www.uni-goettingen.de/de/583205.html