Brown Bag Lunch: Campus-Labore – 13. Juni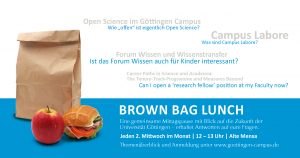 "Campus-Labore" sind das Thema im Brown Bag Lunch am Mittwoch, 13 Juni 2018. Alle Studierenden der Uni Göttingen sind herzlich eingeladen, sich während der Mittagspause über die Zusammenarbeit in den Campus-Laboren am Göttingen Campus zu informieren. Der Brown Bag Lunch beginnt um 12 Uhr und findet in der Alten Mensa, Wilhelmsplatz 3, Hannah-Vogt-Saal, statt.
An der Universität Göttingen gibt es zwei interdisziplinär arbeitende Campus-Labore. Das Campus Lab "Digitization and Computational Analytics (DCA)" entwickelt innovative digitale Methoden für die Geistes- und Sozialwissenschaften mit einem besonderen Fokus auf Datenanalyse. Das Campus-Labor "Advanced Imaging, Mikroskopie und Spektroskopie (AIMS)" konzentriert sich auf die Methodenentwicklung für sechs Forschungsschwerpunkte in der Bildgebung. Die Sprecher der beiden Campus-Labore beantworten Ihre Fragen und erzählen Ihnen mehr über die spannende Forschung in diesen innovativen Strukturen.
Weitere Themen sowie die Kontakte zur Anmeldung finden Sie unter: www.goettingen-campus.de
Campus Laboratories are the topic of our next brown bag lunch on wednesday, june 13.  All students are warmly welcome. The event starts at 12 am at the Alte Mensa, Wilhelmsplatz 3, Hannah-Vogt-Saal.
Campus Laboratories are cross-sectional and inter-disciplinary platforms for exchange and scientific innovation, along common topics. The Campus Laboratory Digitization and Computational Analytics (DCA) develops innovative digital methods for the humanities and social sciences, with a specific focus on data analytics. The Campus Laboratory Advanced Imaging, Microscopy and Spectroscopy (AIMS) focuses on method development for six key research areas relating to imaging. The speakers of both Campus laboratories will answer your questions and tell you more about the exciting research taking place in these innovative structures.
Depending on the audience, the language of the event will be German or English.
www.goettingen-campus.de