Syrischer Kulturabend – 25. April – Syrian culture evening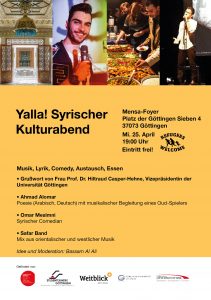 Yallah! heißt es am Mittwoch, 25. April 2018, ab 19 Uhr in der Zentralmensa. Der Göttinger Student Bassam Al Ali hat einen Kulturabend mit Musik, Lyrik, Comedy und Essen aus Syrien organisiert. Ziel der Veranstaltung ist es, die bunte und vielfältige Kultur seines Heimatlandes zu präsentieren und einen offenen Austausch zu ermöglichen.
Der Heidelberger Medizinstudent und Lyriker Ahmad Alomar präsentiert Poesie in arabischer und deutscher Sprache. Omar Meslmani, ein syrischer Youtuber, der in Deutschland lebt, verarbeitet seine Beobachtungen humorvoll in Videos. Die SAFAR BAND vereint die moderne orientalische und westlichen Musik. Syrische Studierende bereiten zusammen mit Geflüchteten ein Buffet aus syrischen Spezialitäten vor. Der Kulturabend wird vom Studentenwerk Göttingen veranstaltet und unter anderem vom Ausländischen Studierendenrat und von Göttingen International unterstützt.
www.facebook.com/events/177294869741203
Syrian culture evening
Yallah! is the name of the game on Wednesday 25 April 2018 in the Main Dining Facility (Zentralmensa). The Göttingen student Bassam Al Ali has organised a cultural evening with music, poetry, comedy and food from Syria. The aim of the event is to proudly present the colourful and diverse culture of his native country and to facilitate an open exchange.
The Heidelberg medical student and lyricist Ahmad Alomar will be presenting poetry in Arabic and German. Omar Meslmani, a Syrian Youtuber living in Germany, humorously notes his observations in videos. The SAFAR BAND combines modern oriental music with Western music. Syrian students are preparing a buffet of Syrian specialities together with refugees. The cultural evening is organized by the Studentenwerk and supported by the Foreign Students' Council and the Göttingen International Office.
www.facebook.com/events/177294869741203