Markt der Informationen – 26. April – Market of Information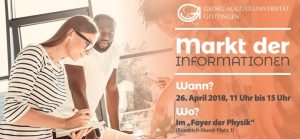 Von der Vorbereitung des Auslandspraktikums über Wettbewerbe zur Studienverbesserung bis zum interkulturellen Lernen: Neben den fachlichen Inhalten des Studiums können sich Studierende an der Universität Göttingen in vielen Richtungen engagieren oder weiterbilden.
Außerdem können sie Unterstützungsmöglichkeiten, wie zum Beispiel Kinderbetreuung oder kostenlose Büroräume für die ersten Schritte in die unternehmerische Selbständigkeit, nutzen. Um einen Einblick in die Fülle der Angebote zu geben, lädt die Universität alle Studierenden zu einem "Markt der Informationen" ein, auf dem sich die Beratungs- und Informationsstellen präsentieren. Die vierstündige Veranstaltung beginnt am Donnerstag, 26. April 2018, um 11 Uhr im Foyer der Fakultät für Physik, Friedrich-Hund-Platz 1.
Neben der Zentralen Studienberatung, dem Studierendenbüro, dem Ideen- und Beschwerdemanagement und dem Career Service werden unter anderem auch die ZESS, die Gründungsförderung und die Abteilung Göttingen International vor Ort sein.
www.uni-goettingen.de/markt-der-informationen
Market of Information
From preparation for internships abroad through competitions for study improvement to intercultural learning: Alongside the substantive contents of study curricula, students at Göttingen University can engage in a myriad of activities or pursue further educate. They can also make the most of the available support options, such as childcare and free-of-charge office space for those who aim to independently start a business. In its aim to provide a better overview into the abundance of offers, the university invites all students to its Market of Information event, where advisory, student counselling, consulting and information centres showcase themselves. The 4-hour event starts at 11:00 CET on Thursday 26 April 2018 in the Faculty of Physics' Foyer, Friedrich-Hund-Platz 1.
In addition to the Central Student Advisory Service and the Career Service from the Student and Academic Services, the ZESS, start-up support and the Göttingen International Office will also be present.
www.uni-goettingen.de/markt-der-informationen