Internationaler Museumstag – 13. Mai – International Museum Day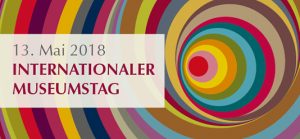 Wie atmen Insekten unter Wasser? Warum läuft ein Doppelkegel bergauf? Was sagt eine Urkunde über die mittelalterliche Gesellschaft aus? Die Sammlungen, Museen und Gärten der Universität laden Besucherinnen und Besucher am Sonntag, 13. Mai 2018 von 10 bis 18 Uhr zum Internationalen Museumstag ein.
Reisen durch die Erdgeschichte, Werkstattbesuche und Büchermärkte, Entdeckungen am Sternenhimmel sowie Kaffee und Crêpes stehen unter anderem auf dem Programm. Italienische Arien und barocke Sonaten, Alt-Berliner Chansons und Ohrwürmer des modernen Pop geben dem Internationalen Museumstag in Göttingen einen besonderen Klang.
Der Tag ist zugleich ein Vorgeschmack auf das Forum Wissen: Bau und Ausstellungsplanung des neuen Museums laufen auf Hochtouren. Das Ausstellungsprojekt soll weit über Göttingen hinauswirken und wie der Museumstag viele Besucherinnen und Besucher anziehen.
www.uni-goettingen.de/museumstag
International Museum Day – 13 May
The university's collections, museums and gardens heartily invite visitors to the International Museum Day on Sunday 13 May 2018 from 10:00 to 18:00 CET.
Journeys through the history of the earth, workshop visits and book markets, discoveries in the starry sky, as well as coffee and crêpes are all on the programme. Italian arias, baroque sonatas, old Berlin chansons and catchy modern pop songs all give the International Museum Day in Göttingen a special ring to it.