Ausstellung: Yallah!? Über die Balkanroute – Führungen für Studierende / Exhibition: Yallah!? Over the Balkan route – guided tours for students – 10. bis 24. November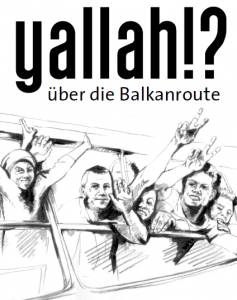 Die Göttinger Studentinnen Mira Lou Braun und Svenja Schurade haben über ein Jahr zusammen mit einem Team aus politisch engagierten Menschen, Künstlerinnen und Künstlern sowie Geflüchteten die Wanderausstellung "Yallah!? Über die Balkanroute" erarbeitet. Sie zeigt Perspektiven von Geflüchteten: Vom "langen Sommer der Migration" 2015 bis zur Grenzschließung und heutigen Verwaltung und vom Leben in riesigen Lagern. Neben zahlreichen Audioaufnahmen haben Geflüchtete auch eigens für die Ausstellung Kunstwerke erstellt.
Die Ausstellung ist vom 10. November bis zum 24. November im Haus der Kulturen, Hagenweg 2e, zu sehen. Die Ausstellungsmacherinnen bieten Führungen für Studierenden-Gruppen an – egal ob selbstorganisiert oder im Rahmen einer Uni-Veranstaltung. Bei Interesse melden Sie sich unter ausstellung@yallah-balkanroute.eu

Göttingen students Mira Lou Braun and Svenja Schurade, together with a politically active team, including artists and refugees, have been working on the travelling exhibition "Yallah!? Over the Balkan route" for over a year. The exhibition sheds light upon the different perspectives of refugees: from the "Long summer of migration" in 2015 to the closing of the border, today's administration and life in large camps. In addition to numerous audio recordings, refugees have also created their own pieces of art work for the exhibition.
The exhibition will be taking place from 10 November through to 24 November at the cultural centre "Haus der Kulturen", Hagenweg 2e. The exhibition organisers offer guided tours for student groups — either organised individually or as part of a university event. If interested, please contact ausstellung@yallah-balkanroute.eu