Anpfiff: Wir wollen's wissen – der Bau des "Forum Wissen" beginnt / Kick-off: We want to know – construction at the "Forum Wissen" is getting under way – 22. Oktober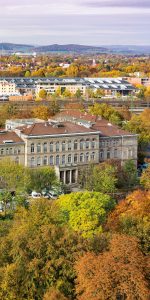 Alle Studierenden sind herzlich eingeladen zur Baustellenparty im ehemaligen Gebäude der Zoologie, Berliner Straße 28. Von 14 bis 17 Uhr können Sie den Umbaubeginn für das Forum Wissen feiern – unser zukünftiges Wissensmuseum.
Mitmachaktionen und Kurzvorträge geben einen Ausblick auf das zukünftige Museum. Das Forum Wissen wird zeigen, wie Wissen geschaffen wird – zum Erleben, Erfahren und Begeistern für alle. Gleichzeitig wird das neue Ausstellungshaus zukünftig die Göttinger Universitätssammlungen beherbergen.
Informationen zum Projekt "Forum Wissen" und Möglichkeiten, wie Sie sich beteiligen können, finden Sie auf dem Forum Wissen Blog: https://blog.forum-wissen.de
www.uni-goettingen.de/forum-wissen
All students are cordially invited to the construction site party in the Zoology Department, Berliner Straße 28. You can celebrate the beginning of the Forum Wissen's transformation into our future knowledge museum from 14:00 to 17:00 CET.
Interactive activities and short presentations will help you get an idea of what the future museum will be like. The Forum Wissen will show how knowledge is created – to provide experiences and inspiration for each and every one of us. At the same time, the new exhibition centre will also be host to Göttingen University's collections.
www.uni-goettingen.de/en/521321.html